Thoughts Unlocked: Lockdown Days Musings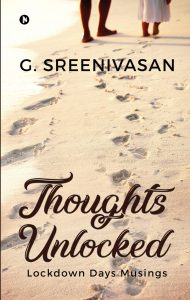 This book tells the stories of the past, present and future. It seems autobiographical and fictitious at times and written in a language that is lucid, mild, straight and with a touch of humour. The thoughts shared would create in every reader a ponderous urgency to look back to the lives we had in the past. The book is available at the following online stores.
Pages: 118
Price: ₹179
About the book
A pandemic made us all sad, mute and tremble with fear. We locked the entire world one day and isolated ourselves from each other. This book Thoughts Unlocked – Lockdown Days Musings is a riposte to a pandemic that has rendered the humans voiceless. It ruminates on how the pandemic made a larger impact on life. . The vibrant cultures and maligned myth of Yakshi, life in villages a half-century ago are also covered. I hope this book will be a great help in the freeing of our thoughts and presumptions
The Book
Power theft has become a major source of revenue loss to power utilities. Despite their efforts, power utilities have not been able to contain it. This book deals with the practice of power theft all over the world, with special thrust on the Indian scenario, and describes methods to control it.
The book discusses the various methods of power theft, giving a peep into the ingenuity and imagination of power thieves. Besides, it provides a graphic account of meter mechanism, meter dodging, state-of-the-art techniques of high-tech power theft, measuring principles, and methods of analysis of power theft. The book presents as many as fifty types of power theft with the help of suitable photographs so as to analyze the problem from various angles.
Besides being of practical interest to the students of Electrical Engineering as part of their courses on Power System, the book can be of principal interest to professionals engaged in electricity boards, power utilities and power training institutes, and energy auditors.
THE AUTHOR
G. SREENIVASAN is Executive Engineer with Kerala State Electricity Board[KSEB Ltd]. He is known in power sector academics circles as the author of 'Power Theft'[PHI Learning[P] Ltd].He has been a guest faculty at premier Institutions like Administrative Staff College of India (ASCI), Hyderabad; Engineering Staff College of India (ESCI), Hyderabad; Reliance Energy Management Institute (REMI), Mumbai; and Central Institute for Rural Electrification (CIRE), Hyderabad.Mr. Sreenivasan, a technical writer, and a blogger is also an activist in the prevention of power theft. He has been highlighting the issues related to power theft all over the world to create awareness with a different perception. He has a long career in detecting high-tech power thefts and has passed through many hardships and dangers. As a member of International Utility Revenue Protection Association (IURPA), he has been closely associated with developments in this sector all over the world. He is pursuing a research study to explore the role of media in the prevention of power theft and can be reached at tamperfinder@gmail.com.
EVERYDAY ELECTRICITY
Everyday Electricity' gives us an entertaining account of the marvelous discoveries of all time. The book provides a perspective to understand the most wonderful tool – electricity- by stringing history of Electricity, generation methods, transmission etc. into a semi-scientific narrative. 'Electricity' one of the greatest invention that shook ev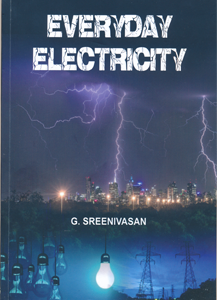 erything to the roots after the wheel, is vital for the growth of every economy. Even though it is manipulated by a flick of a button or switch, electricity as such is a complex subject hard to comprehend for a common man.
The author intends to create awareness among general public, media, students, etc about the evolution of electricity, its various forms and basic characteristics. The most striking aspect of the book is its absolute clarity. It explains simply using apt illustrations about basic electrical concepts so that readers can get a broad idea about the subject and it seems the author succeeds in his endeavor when such attempts even from professionals often fail to do.
The organization of this book allows the reader to easily follow the concept of electricity. The book is divided into ten chapters beginning with 'What is electricity?' in which the basic concepts of electricity using symbolic representation is explained so that even laymen get a clear cut idea about the concept. The reader is taken on a journey through the evolution of electricity from way back in 900 BC to its present form and explained, in a nutshell, various studies, experiments, researches down the centuries before it has become as convenient as its present form.
From early stages of electricity in India to the stature it has achieved today is followed by 'How does electricity reach our homes' and throws light on transmission and distribution system. Basics of transformers, Energy meter, Demand-side management [DSM] etc.are incorporated. The book also focuses on electrical hazards, safety aspects etc. and the do's and don'ts in simple language with pictorial representation. It is interesting how the author takes us through themes like energy saving at home, and the blackout in North India with an analogy of a tandem bicycle in a circle with a number of riders and pillions. The comparison is really interesting and comprehensible even for laymen.
The author sugarcoats difficult concepts with simple analogies. The difference of two synonymously used terms 'Load shedding' and 'Power cut', a nightmare for many to differentiate clearly is also narrated.
In the conclusion, the unparalleled changes in this sector are pointed out. Future scope and challenges in the field such as Wireless electricity, Smart metering, Renewable Energy, Electric vehicles, Real-time data measurement, Hydrogen fuel etc. are also mentioned. The author provides a peep into decentralized generation, digitalization of power system and privatization of this sector which according to him will be a reality in the near future.
The book is brought out by the Publication Division of Ministry of Information & Broadcasting, Govt. of India.
To buy online- CLICK HERE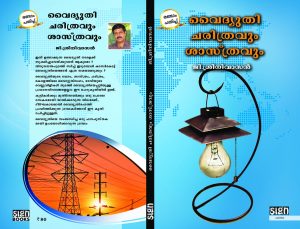 To buy online- Contact Us